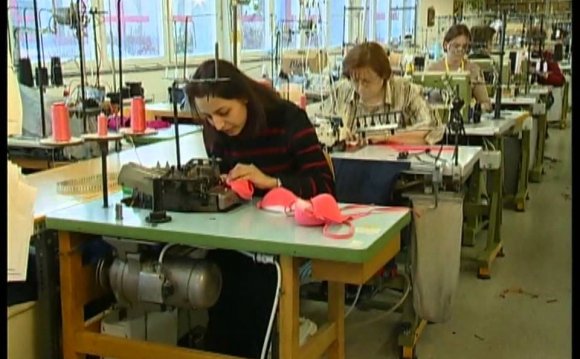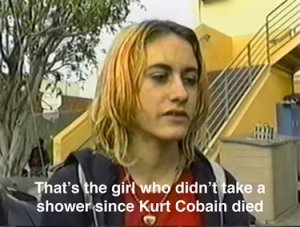 Amber, one of the so-called "dirty girls" receives a barrage of hate from peers in viral documentary "Dirty Girls"
Mastering the YouTube search function can dredge up a bounty of goods to satiate even the most rabid of video lurkers. With 300 hours of video uploaded to YouTube every minute, the odds are ever in your favour of stumbling upon something new that you've never seen before. Plenty of hotspots amass these cult gems, such as Reddit's Obscure Media and Camp Cult subreddits. But if you don't know what to look for, it can be an endless scroll of indecision. In the realm of documentary film, YouTube's got a lot on offer. So as it celebrates its 10th anniversary this week, we cherry pick ten of the best cult documentaries on YouTube.
DIRTY GIRLS (1996) – MICHAEL LUCID
"That's the girl who didn't take a shower since Kurt Cobain died, " schoolmates hiss about sisters Harper and Amber, the so-called "dirty girls" of Santa Monica's Crossroads School. The punk feminist high schoolers face some acidic barbs from haters while distributing their riot grrrl zine in this 1996 short doc. When the documentary was uploaded online in 2013, it went viral and their fierce confidence continues to inspire generations of outcasts and social pariahs.
FLORIDA MAN (2015) – SEAN DUNNE
You know the Twitter account that posts sad-but-true stories about Florida wackos with headlines that could be swiped from The Onion? This is like the never-a-dull-moment cinematic version, from the director who brought you American Juggalo. It's basically a 49-minute recce into the Floridian streets, following around the strangest citizens armed with grandiose anecdotes and swear words.
GREY GARDENS (1975) – THE MAYSLES BROTHERS
As flagging distant relations to Jacqueline Kennedy Onassis, Big and Little Edie Bouvier are entitled ex-society ladies holed up in their crumbling east Hamptons mansion, annoying the hell out of one other. Little Edie is the real star of Grey Gardens – a self-proclaimed staunch character and egotistical manaic – so much so that she has become a parody-inspiring legend.
SUGAR COATED (2013) – 72U
Imported from Tokyo's Harajuku district, "Lolita" fashion – a fusion of Harajuku and Victorian and Rococo style – has hit the streets of Los Angeles. The style's devotees love to experiment with cutesy clothes and make-up, sure, but through the glued-on lashes and puffy skirts, they learn to conquer their issues and freely express themselves.
THE LOOK (1992)
Take a trip back to a time before the Insta-reaction runway review was ubiquitous and the elitist fashion industry was still referred to as "the inner sanctum". Gaining access was tough, as you're constantly reminded throughout, but the BBC managed to bumble their way through an entire fashion month with their All-Access Pass. The documentary, over 20 years on, has aged beautifully. Watch for cameos from Karl Lagerfeld, Jean Paul Gaultier and a montage of fashion editors' faces that get stamped with the word "BANNED" for writing scathing show reviews.
LIFT (2001) – MARC ISAACS
A more personal twist on the elevator pitch, director Marc Isaacs set up shop in a tower block lift to meet the people who live there. At first, they side-eye the weirdo pointing his camera at them in such close quarters; but as the tape rolls and the residents realise he ain't going nowhere, they begin to warm up to him, bring him food and spill their intimate secrets.
BBC OMNIBUS: MARIO TESTINO (2002) – LOUISE HOOPER
Mario Testino's brand of raw sex appeal – the kind that has shaped his work and made him one of fashion's most legendary names – has been farmed out to everyone from Kate Moss to Madonna, who have all posed for the celebrated photographer. This BBC documentary follows him on a whistle-stop tour from Rio to Cannes to Peru and New York, bringing viewers behind the lens of one of the world's pre-eminent imagemakers.
Source: www.dazeddigital.com
RELATED VIDEO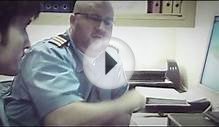 Best documentary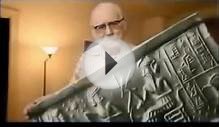 NIBIRU Planet-X - The BEST YOUTUBE DOCUMENTARY EVER (It ...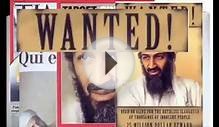 BEST 9 11 DOCUMENTARY EVER!(FULL MOVIE) - YouTube
Share this Post