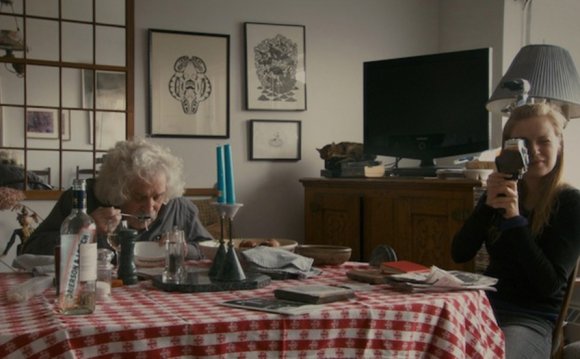 Documentaries almost never make for big blockbusters or get written up in the headlines, but often some of the most compelling stories being told in cinema come from documentaries about true events. While docs will never get the attention of a blockbuster, they have the ability to teach the audience something new about the world in a way that fictional films don't.
If you feel like learning something new on movie night, here's a list of the 10 best documentaries of the year so far, according to reviews aggregated by Rotten Tomatoes and Metacritic. These 10 films explore a huge variety of subjects, from musicians to film critics, from a classic film to a movie that never got made, from a gorilla sanctuary to an art museum.
Source: Praxis Films
1. Citizenfour
Of course, one of the most talked-about documentaries this year was Laura Poitras's film about NSA whistleblower Edward Snowden, Citizenfour. You might think to yourself, I'll just wait for one of the biopics to come out, but Poitras's film was praised for giving the feel of a spy thriller while staying true to Snowden's story and presenting him as a normal person faced with an extraordinary decision. Poitras was one of the original journalists who Snowden leaked the documents about the NSA's surveillance to, as she's a multiple award-winning filmmaker who had been in the process of making a film about post-9/11 surveillance when she began receiving anonymous emails from him under the pseudonym "Citizen Four." The documentary got a 97 percent Fresh rating on Rotten Tomatoes and an 88 Metascore from Metacritic.
Source: Arts+Labor
2. No-No: A Dockumentary
This film is probably the most rock-and-roll documentary ever made about baseball, discussing the infamous no-hitter pitched by Dock Ellis for the Pittsburg Pirates in 1970 while tripping on LSD, the only instance of such a thing happening in the recorded history of baseball. Ellis was a controversial figure in the baseball world for more than just his rock-and-roll lifestyle, as the baseball community was a bit wary of his black power attitude, as well. Ellis was both a civil rights trailblazer and one of the biggest rock stars in baseball history. While Ellis has become a bit of a folk hero for accomplishing such a task while tripping, he later went on to get sober from his multiple substance addictions and treat his counseling on addition with the same passion as he had civil rights issues decades before. The documentary has a 100 percent Fresh rating on Rotten Tomatoes and a 68 Metascore.
Source: Corniche Pictures
3. 20, 000 Days on Earth
This documentary about rock icon Nick Cave takes on the conceit of exploring one day in the artist's life while recording his recent critically acclaimed album with the Bad Seeds, Push the Sky Away, which received numerous accolades and would go on to become Cave's first No. 1 album in his native country of Australia. The movie doesn't disguise its fakery and is much more a look into the myth-making behind Cave than an attempt to show viewers who he really is. Cave drives around Brighton while ghosts from his past, including Kylie Minogue and Ray Winstone, mysteriously appear in the backseat of his car to talk to him about his life and art. While the more you love Cave, the more you'll love this movie, it's accessible to anyone interested in exploring the creative process and what the drive to create means as one ages. The film has a 97 percent on Rotten Tomatoes and an 83 Metascore.
Source: CNN Films
See also:
Eco Sober House – recovery with addiction treatment programs.
Source: www.cheatsheet.com
Share this Post